MAXIMOS a professional agency,offers selected modern property in Turkey for Sale. Search,buy houses,villas and apartments real estate in Antalya, Istanbul, Belek, Kemer, Alanya and Bodrum. Use our Search Bar in the Menu to find properties for sale.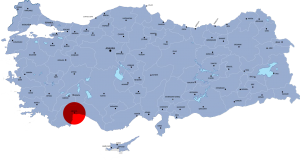 Province: Antalya
Country: Turkey
Region: Mediterranean
Population (2010): 1.000.000
International City Airport
5 star sandy beaches
Metro
Ultramodern Shopping Malls
Flight distances:
Europe: 3 hours
Moscow: 2:45 hours flight
London: 3:50 hours
Istanbul: 45 minutes
3 flights per hour between Antalya and Istanbul Airport
Websites about Antalya:
It is quite clear for everybody who has ever visited Antalya, why this city is so popular among tourists and foreign property buyers. This Mediterranean city has a mild warm climate all year round, sandy clear beaches, places of historical interests and a lot of other facilities that are needed for residents live here and holiday makers.
The Antalya international airport is one of the best served international airports in Turkey -and that means a lot. Flights from the UK, including low-cost airlines are frequent, as are those from Germany and from many countries all around the world.
There have been several new destinations added to Antalya airport's repertory this year, as well as increasment of frequency of flights, that makes it easier to understand the appeal of Antalya property for foreign buyers.
Antalya Property for Sale
Antalya properties for sale are extensive and diverse. The city is one of the most popular in Turkey among foreign buyers, not least because it has one of the best served international airports in Turkey.
Antalya is a rapid city on Turkey's Mediterranean coast. We all know what that means: sun, sea and sand -300 days of sunshine per year; hot in the summer, warm most of the year, with a brief rainy winter.
When it comes to a sunny places like Antalya, the question of accessibility is very important, because it has many nice bars and restaurants by the beach, that gives a great opportunity to enjoy your holiday here.
Antalya properties are very popular among the younger overseas property buyers. While it is perfect for the family, it is a kind of place for youth, as it has a great nightlife, with modern nightclubs playing popular music.
Pointing out all these factors, Antalya is a destination for everyone, and is a favourite among foreign buyers, not least because of the availability of low-priced off plan projects in greatly equipped residences by the sea.
Real estate in Antalya has always been quite popular among overseas property buyers looking to buy a property in this sunny location. Antalya real estate covers the major part of the Turkish Mediterranean coast, considered by majority as one of Turkey's most popular holiday locations.